PPM-T8 Neonatal Monitor
Why do we choose specialized neonatal monitor?
Because of its function
Because of its accuracy
Because of the safety it provides
Because of its easy operation
Because of its focus on neonates
product description
PPM-T8 High Quality 8.4inch Multi-parameter Neonatal Monitor
Why do we choose specialized neonatal monitor?
Because of its function
Because of its accuracy
Because of the safety it provides
Because of its easy operation
Because of its focus on neonates
Neonates are a very special group whose BP, ECG and SpO2 are of great differences from the adult's.
Measurement of ECG, HR and RESP is usually inaccurate when using traditional monitors.
Also inexperienced nurses always accidentally adopt adult mode to measure neonate's blood pressure, which will easily bruise neonate's arm.
Based on neonate's needs, Lexison creates the specialized neonatal monitor,which is safer, more accurate, more stable and more convenient.
Features:
1) Super ability in against electrosurgical interference.
Neither in cutting nor in burning, ECG waveform can be influenced, very short recovering time after defibrilation,
especially suitable for use in emergency or operating room.
2) Unique thoracic impedance & nasal tube double model respiration test method
(when patient can not lie quietly, only nasal tube respiration can detect the right respiration waveform and volume are adjustable rate ).
3) 8.4'' Medical Class color TFT LCD screen, lightness and volume are adjustable independently.
4) Streamlined outline design with sense of the times & foldable handle.
5) Multi-language interface selection : English, Spanish, Portuguese, Polish, French, Chinese, Arabic, Russian, Italian , Turkish, etc
6) User-friendly and man-machine dialogue anterface with pop-up menus, dialogue boxes, rotary mouse and etc.
7) Low-power consumption design with standby mode, rechargeable high-energy built-in battery.
8) Advanced digital technology, accurately measure SpO2 in low perfusion situation.
9) Huge history trend data storage, up to 360 hours.
10) Drug calculation, ST-segment detection, pace maker and arrhythmia analysis.
11) 5 kinds of fixed display format include OxyCRG diagram, 7-lead ECG waveform simultaneously, big-font mode and etc;
5 kinds of user-defined display format; display multi-channel real time waveform&trend diagram same time.
12) 3 level audiable&visual alarm and apnea alarm available, alarm limits are adjustable.
13) Suitable for adults, pediatrics and neonates.
14) Application in bedside and delivery monitoring; widely used in patient room, emergency room, operation room, PACU, ICU, CCU, etc.
15) WAN communication function to network with central monitoring system and make long-distance monitoring, diagnisis, maintenance and software upgrade possible.
16) Printing of data, waveform, trend tables and trend diagram.
17) Wired, wireless and hybrid central monitoring solution.
18) Complete carting and mounting solution.
Standard Parameters: 5-lead ECG, SpO2, NIBP, 2-TEMP, RESP and PR/HR
Optional: Built-in Thermal Printer/Recorder, 3/12-lead ECG, 2/4 IBP, ETCO2, Nellcor/Masimo SpO2, Cardiac Output, Trolley, VGA output, Phase-in/Respironic Multi gas, ICG, BIS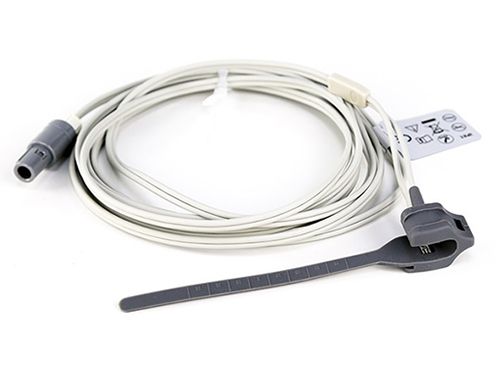 LexisonTM Standard Reusable Flexible SpO2 Sensor
A versatile sensor for short-term, continuous monitoring in a broad range of patient sizes. This reusable rubber pulse oximetry sensor is designed for short-term, continuous monitoring. Integrating easily into your workflow, it's:
Forward and backward compatible with your existing Lexison Compatible Monitors
Engineered for dippable cleaning to enhance workflow efficiency.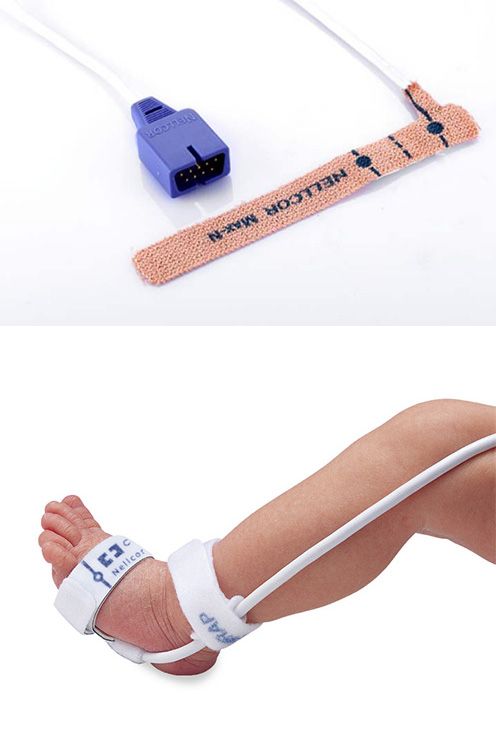 Optional: NellcorTM Brand Single use Nonadhesive SpO2 Sensor
An ideal sensor for patients with sensitive skin.
When patients with fragile skin require pulse oximetry monitoring, choosing an appropriate sensor can be a challenge. Adhesive sensors can cause skin trauma, and reusable sensors have drawbacks for long-term monitoring.
We offer a convenient solution. The Nellcor™ nonadhesive sensors are made of a soft, pliable, low-profile foam material that gives it "stiction" to help keep the sensor in place without adhesives.
The sensors fasten easily with a small hook and loop strap. Nellcor™ nonadhesive sensors are ideal for patients with special skin needs. When patients have compromised skin integrity, clinicians can use the sensor with the soft touch.
Features
A comfortable, secure, second-skin fit keeps the sensor in place to promote reliable readings.
The sensors offer a high degree of accuracy comparable to adhesive digit sensors.
The sensors are designed for sterile, single-patient use, offering infection-control advantages.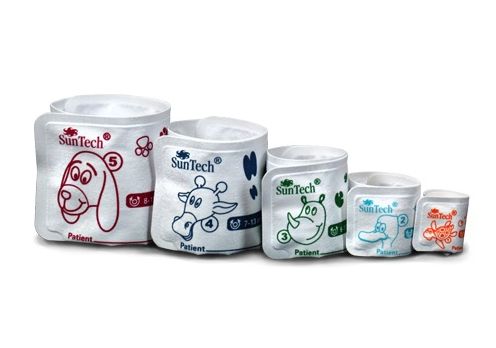 Optional: SunTechTM Brand Neonatal Soft Disposable Blood Pressure Cuffs
There's nothing more important than keeping a newborn safe from infection which is why we've created our Neonatal Soft Disposable Blood Pressure Cuff to fit even the smallest of patients - designed to deliver accurate and reliable BP measurements – when comfort, accuracy and safety matter most.
With all of the same features you've come to rely on in our larger-sized Soft Disposable Blood Pressure Cuffs - the color-coding, tapered end and soft, flexible materials - these neonatal blood pressure cuffs are the ideal solution for any neonatal patient care setting.
Features
With the Neonatal Soft Disposable BP Cuffs, you can count on us to deliver:
* Patient Identification: Dedicated location for single patient identification. Minimize cross-contamination.
* Cuff Standardization Program (CSP): Expertise in standardizing your facility on one cuff connector; one cuff, any patient, any monitor, any department.
* Economical: Priced to support single-patient use, particularly where infection control is a concern.
* Patient Comfort: Softer materials, tapered end and rounded edges provide a gentle cuff solution.
* Ease of Use: Tapered end for easier cuff application. Color-coded for quick size selection. Interior & exterior range indicators ensure accurate cuff sizing and fit.
* Durability: Value in a durable, single-piece design for multiple inflations.
* Reliable Performance: 100% leak tested for trust, value, and reliability.
* Regulatory: Engineered to meet AHA, AAMI-SP10, and MDD guidelines for results you can trust.
* Latex: Not made with natural rubber latex
Need more information or pricing? Request a quote here and learn how we can be the difference for you!